NYU Shanghai, Hong Kong University of Science and Technology (Guangzhou) and Shanghai University last month announced the creation of the Joint Urban Survey and Intervention Lab (JUST Lab), formalizing a longstanding collaboration among researchers at the three universities on two multilevel longitudinal household surveys in Hong Kong and Shanghai – the Hong Kong Panel Study of Social Dynamics (HKPSSD) and Shanghai Urban Neighborhood Survey (SUNS). 
"Moving forward, we plan to extend the data collection and research to other cities in the Yangtze River and the Pearl River Delta, the two most dynamic regions of China," said Professor Wu Xiaogang, Yufeng Global Professor of Social Science and the founding director of the Center for Applied Social and Economic Research (CASER) at NYU Shanghai. "While continuing to further the data collection of SUNS with Shanghai University, we also plan to launch a similar data collection project in Shenzhen with HKUST(GZ) to facilitate comparative urban research. NYU Shanghai will leverage its unique position to take the lead on research initiatives, form the network and aim for joint funding applications. We also hope to attract more universities to join us." 
The announcement was made at the Symposium on Urban Social Survey and Quantitative Social Science in China organized by NYU Shanghai's CASER. Over the weekend of June 24-25, over 100 scholars and students gathered online  to share their most recent studies in Chinese urban research and to exchange ideas and methods regarding urban social  survey data collection and analysis. A special session was organized to discuss the past, present and future of urban studies in China. Panelists included Stephen Raudenbush, the Lewis-Sebring Professor of Sociology at University of Chicago and Visiting Scholar in residence at NYU Shanghai, Zhou Feizhou, Chair of Sociology Department at Peking University, Wang Tianfu, Chair of Sociology Department at Tsinghua University, Ge Lin Kan, Acting Head of the Urban Governance & Design (UGOD) Thrust Area at HKUST (Guangzhou). 
Raudenbush reflected on his 9-months of living in Shanghai as an observer and a sociologist who studied the Chicago neighborhoods, and discussed how studies of Chinese neighborhood organizations can contribute to strengthening comparative urban studies. Zhou and Wang traced the legacy and influence of scholars of Yenching (later merged to Peking University) and Tsinghua on community and urban studies in China.  Kan presented a future blueprint of a multi-disciplinary, data-driven, and policy-oriented field of urban studies, which he and his colleagues aim to build at HKUST(Guangzhou).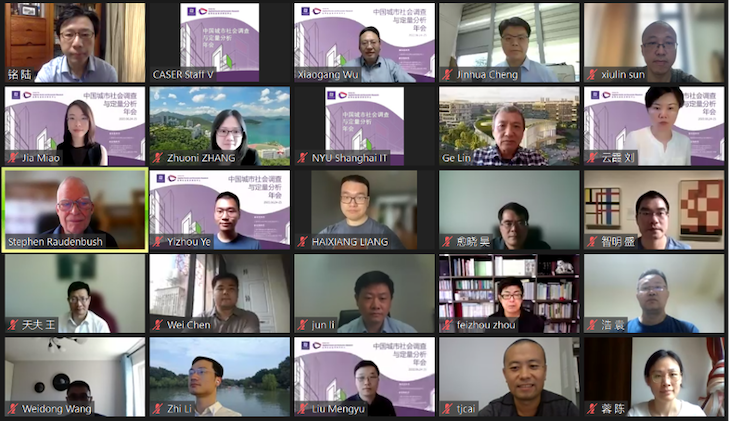 The symposium attracted participants from multi-disciplinary backgrounds, including demography, economics, geography/geoscience, law, public administration, sociology and social policy, and urban planning. Two keynote speakers, Lu Ming, Special-term Professor of Economics at the Antai School of Economics and Management of Shanghai Jiao Tong University and Professor Wang Tianfu of Tsinghua University, addressed the symposium.
In his keynote, Lu took data on traffic flows, cell phone signaling, population census, etc., to present a series of studies on city clusters, metropolitan areas and intra-urban spatial patterns conducted by his research team from Shanghai Jiao Tong University in recent years to exhibit the "centripetal city" phenomenon under which economic activities and population are moving in the direction of the centers of the urban areas. He also proposed a dual-center peripheral analysis framework that can summarize the regional and urban development patterns of China.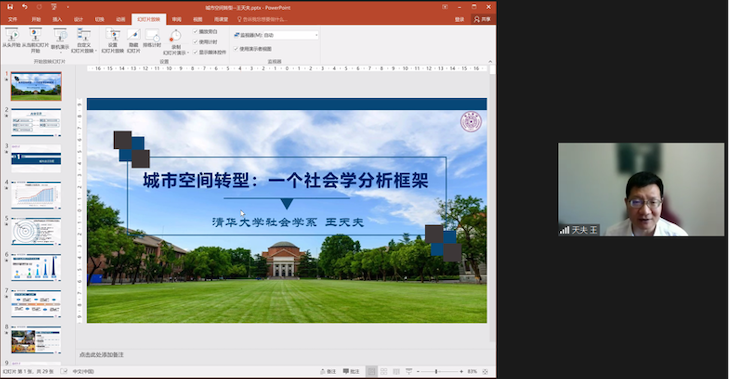 Wang proposed the idea of multiple actors driving the urban transformation in his keynote. He suggested that China's urban transformation has been driven by multiple actors, including the state and government, development investors, planning architects, cultural preservationists and residents, etc., whose actions and interactions are a process of negotiation and cooperation, conflict and competition, game and compromise, and collaboration; and the urban social space resulting from that portrays strong characteristics of a "patchwork mosaic."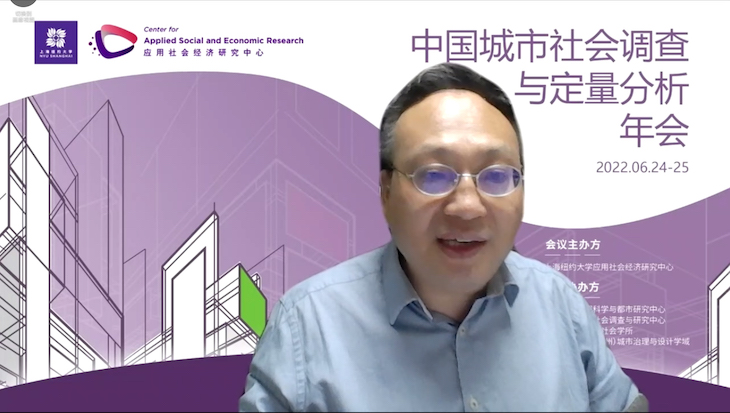 The symposium was also convened as part of NYU Shanghai's 10th Anniversary Celebration. "CASER will continue to pursue its long-term goal of promoting methodologically rigorous, multi-disciplinary research on various aspects of Chinese societies in local contexts and comparative perspectives, and eventually to better serve the society and improve the quality of life of those living in cities," said Wu.
The co-organizers of the symposium include the Center for Data and Urban Science at Shanghai University, the China Center for Social Survey and Research at Tsinghua University, the Institute of Sociology at Shanghai Academy of Social Sciences and UGOD Thrust Area at HKUST (Guangzhou).
The early development of Chinese sociology has been deeply influenced by the pioneer American urban sociologist Robert E. Park. In 1932, Park was invited to teach at Yenching University (now Peking University) for one semester and first introduced the concept of community to Chinese scholars, coined as a new Chinese term shequ. Park's visit not only helped to cultivate the Yenching school of rural community studies in the 1930s and 1940s, but also inspired a generation of Chinese sociologists, such as Fei Xiaotong. "Ninety years later, as urban China has become the frontier of sociological imagination, we still have a lot to learn from early studies of community and urban neighborhoods. But as the context is changing, while inheriting the traditions, research development also needs to have constant innovations. Thus we hope to further promote urban survey and quantitative research in Chinese cities through today's symposium, which I call 'Community Research Version 2.0'", said Wu.